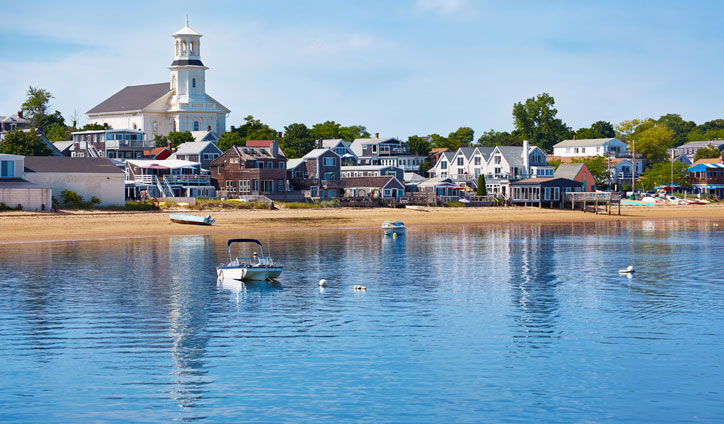 Located in the easternmost part of Massachusetts is the historic maritime region of Cape Cod. With its beautiful beaches, classic charm and laid-back atmosphere, it's the perfect place to settle down with a family, retire to or open up a small shop. Since 1943, Brookline Transportation has helped many people within Cape Cod with their residential and commercial moving needs. Thanks to our affiliation with Mayflower Transit, we're able to handle relocations of all sizes and distances. Regardless of how large your project is or how far you need to go, our Cape Cod movers have you covered.
Household & Furniture Movers – Cape Cod, MA
Need to move from a studio apartment to a two-story house? Our team has the experience and skills to handle your project with ease. After we provide you with an in-home estimate of costs, we'll assign a move coordinator to your project. This individual will work with you every step of the way to ensure your complete satisfaction. Whether you choose a basic residential move or a full-service household relocation, they'll guide you through every step of the process and answer all of your questions. Other perks and services we offer as the leading Cape Cod moving company include:
FREE delivery of moving cartons & supplies
Overnight delivery to anywhere in New England
FREE, accurate estimates
Guaranteed Price Agreements
Fully-insured movers
Home of the "BOXLESS OFFICE MOVER" (A Green Service)
Complete, detailed itemization of your belongings
Commercial & Office Movers – Cape Cod, MA
Our immense amount of skill and experience gives us the ability to handle commercial and office moves without breaking a sweat. Using our Boxless Office Moving System – a state-of-the-art, eco-friendly moving technique – our Cape Cod office movers will pack all of your items in secure reusable bins. We also offer employee relocation services that can be charged to your whole move or billed separately. This will ensure your staff and their families are moved safely and on time for the first day at the new location.
Industrial & Equipment Movers, Cape Cod, MA
There is no item too big, fragile or oblong for us to move. Therefore, we would be delighted to help you relocate your more complex belongings. Sensitive lab equipment, computer servers, industrial machinery – you name it! Trust us to get your valuable items to your destination unscathed.
Are you ready for your free moving quote? Contact our Cape Cod Moving Company for more details. Give us a call or fill out our online form today to get in touch!