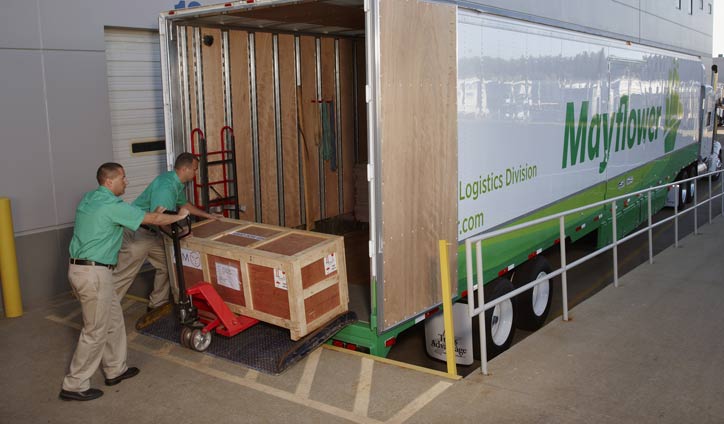 Brookline Transportation, Inc. (BTI), a Mayflower Van Lines agent specializing in commercial and residential moves, recently launched a non-profit division. The new division features enhanced packing, storing and transport services available at a discounted rate on local moves for 501 (3) c non-profits.
"There are so many non-profits out there doing very good things in the community and for the community, most with budgets that have to account for every single dollar spent. We realize an added expense like a move means those dollars have to stretch even further," said George Rohlfing, owner of the family-owned and operated Brookline Transportation, Inc. "While we feel our rates are competitive, we wanted to do something for our non-profit clients. The discounted rate is just our way of saying thank you to these non-profits for the work they do."
Added Rohlfing, "While non-profits make up a smaller percentage of our business compared to residential and commercial moves, they often involve some of our more interesting and memorable moves. Our recent work with Whale and Dolphin Foundation certainly qualifies."
The Whale & Dolphin Conservation, a leading global marine conversation organization, recently had the unenviable task of getting Delilah, areplica of an endangered North Atlantic right whale, from Brockton to New Bedford. They turned to BTI for assistance.
"Delilah (the inflatable whale) was built based on the actual measurements of her namesake, an endangered North Atlantic right whale who once swam the waters of Cape Cod Bay. We debuted her recently at a school in Brockton where, over two days, we had 37 classes and more than 900 students go inside Delilah to learn about right whales. She was next slated to be the featured attraction at the New Bedford Whaling Museum's right whale day on April 15, after which she was heading to an outdoor event in Connecticut," said Regina Asmutis-Silviato, executive director of the Whale & Dolphin Conservation. "We had a small window to get her back to Landmark Creations to have her modified for outdoor events, without cancelling an event already in the books. That was only possible because of the work of BTI!"
BTI offers a wide range of relocations services for its residential and commercial customers. That includes a number of services to address the specific intricacies of a move. That includes customized containers to match the size and delicacy of a particular piece of equipment. To that end, each move has a designated project manager to plan the before, during and after of a specific move.
Said Rohlfing, "Part of that moving plan includes the development of a contingency plan should something go awry."
In addition to the planning and actual move, BTI relocation services include coordination with facilities and IT staff, if necessary, at both origin and destination to ensure a smooth transition. Additionally, BTI can offer storage options on both ends of a move should the facility need time to accommodate at delivery.
For complete information on BTI's relocation services, please visit https://www.usamover.com/ or call 800-766-7724.