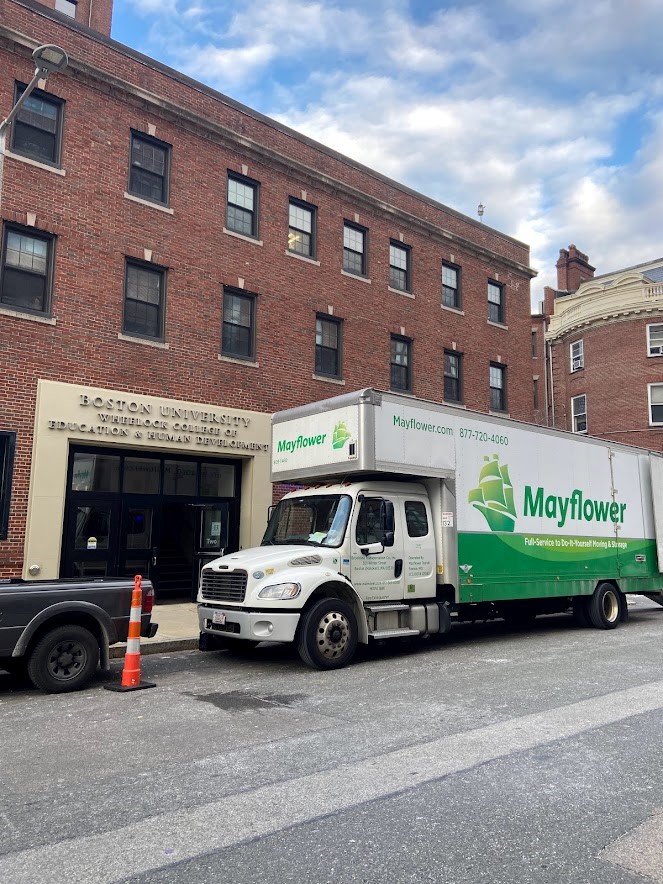 BOSTON, MA and HANOVER, MA …
Brookline Transportation, Inc. (BTI), a Mayflower Van Lines agent specializing in commercial, lab, medical, science and residential moves, recently completed an asset management project as part of the buildout of the Wheelock College-Boston University's College of Education and Human Development at 2 Silber Way, Boston, MA. RHC General Contracting of Hanover, Mass., was the contractor on the project.
The buildout took place from December 2022 to June 2023 over the seven floors and 22,000 square feet of the building. BTI moved and stored furniture, office equipment and other items so that RHC could do their work.
"The project involved extensive planning with both the school and RHC as to where things in the building could be stored without interfering with BU's operations or the construction work," said Jarrod Rohlfing, vice president of BTI. "Over the seven-month project, we were in pretty much constant communication with BU and RHC so we could be on top of the next move so they could seamlessly start the next room for renovation and stay on schedule."
The BU project represented the first collaboration between BTI and RHC General Contracting. Both companies are headquartered at 301 Winter Street in Hanover, Mass.
About Brookline Transportation, Inc. (BTI)
Since its founding in 1943, BTI has coordinated and executed thousands of commercial and residential moves throughout the greater Boston area to Cape Cod. A Mayflower franchise, BTI has the capability to conduct international and cross country relocations.
BTI's services include: Professional Packing; Special Crating; Storage, Loading & Unloading Services, Workplace services, Medical Devices and Lab & Scientific Relocations. For more information on Brookline Transportation services, visit https://www.usamover.com/specialized-moving/lab-science-moving/or call (781) 561-1033 1-800-766-7724.